Join Us at Our Next Monthly Meeting!!
Our regular monthly meetings are held on the second Tuesday of each month. Please keep checking this page for the location of future meetings.
Location:
Powers Ferry United Methodist Church
Address:
245 Powers Ferry Road
Marietta, GA 30067
Date:
Tuesday, November 13, 2018
Time:
6:30pm (social gathering and networking)
7:00pm (program and meeting)
Guests and visitors are always welcome!!
Our next meeting will be at Powers Ferry UMC located at 245 Powers Ferry Road, Marietta, Georgia. The November program will be presented by Margaret Hunter. She will be discussing "Russel Wright: Affordable Modern Design for America." We are looking forward to seeing each of you Tuesday, November 13 at Powers Ferry UMC. Social time is 6:30pm and the meeting beginning at 7:00pm.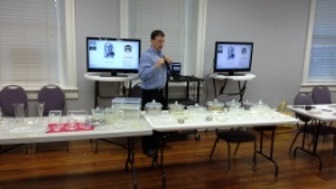 Bob Dahlhofer, club vice-president, presented his collection of Fry Ovenware along with a very interesting history of the Fry Glass Company. Many of us will now be searching for the Fry trademark.