Join Us at Our Next Monthly Meeting!!
• May Meeting •
Date:
Tuesday, May 10
Time:
6:30pm (soclalizing and networking)
7:00pm (program and meeting)
Location:
East Cobb United Methodist Church Activity Center
Address:
2325 Roswell Road
Marietta, GA 30062
Due to the generous donations made for the April Auction, the Auction will continue at the May 10 meeting. Just bring your pen and paper to keep track of your bids along with your money and enjoy the continuing fun of this event.
Tuesday, May 10 6:00pm is auction setup time. At 6:30pm, we will have a brief business meeting and then at 7:00pm, the auction will begin. Come and invite a friend to join in.
Guests and visitors are always welcome!!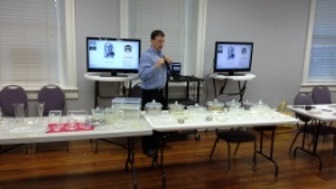 Bob Dahlhofer, club vice-president, presented his collection of Fry Ovenware along with a very interesting history of the Fry Glass Company. Many of us will now be searching for the Fry trademark.