Join Us at Our Next Monthly Meeting!!
Our regular monthly meetings are held on the second Tuesday of each month. Please keep checking this page for the location of future meetings.
Location:
Powers Ferry United Methodist Church
Address:
245 Powers Ferry Road
Marietta, GA 30067
Date:
Tuesday, November 12, 2019
Time:
6:30pm (social gathering and networking)
7:00pm (program and meeting)
Guests and visitors are always welcome!!
Fall has arrived! Aren't the cooler days nice? They remind us that the holidays are just around the corner, and it is time to think about decorations. Come to our meeting on November 12 at Powers Ferry United Methodist Church and learn some new decorating ideas with Carolyn Tiede. Her program is "Holiday Decorating with Milk Glass" This will be a fun way to start this season of joy!
The meeting will begin with social time at 6:30pm and the meeting and program at 7:00pm. Come, bring a friend, and let's have some fun together.
Our Christmas dinner is Saturday, December 14 at 5:00pm at our meeting room at Powers Ferry UMC. The menu from Time to Dine caterers will include ham and turkey, southern dressing with gravy, green beans, mashed potatoes, salad, rolls, dessert, and tea or coffee.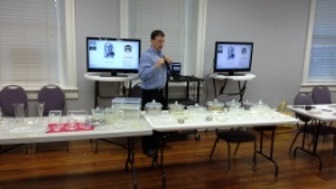 Bob Dahlhofer, club vice-president, presented his collection of Fry Ovenware along with a very interesting history of the Fry Glass Company. Many of us will now be searching for the Fry trademark.