Join Us at Our Next Monthly Meeting!!
• January •
Date:
Tuesday, January 10
Time:
6:30pm (soclalizing and networking)
7:00pm (program and meeting)
Location:
East Cobb United Methodist Church Activity Center
Address:
2325 Roswell Road
Marietta, GA 30062
We hope you had a wonderful holiday season and are ready for a fabulous 2023. Join us monthly for our club meetings and make new friends. Consider asking a guest to come with you as we need to make more people aware of our club and its activities.
Please join us at our first meeting of the year at 6:30pm for socializing and our meeting and program at 7:00pm. The topic of this month's program will be Porcelain & China Painting presented by Mary Belle Cordell, Artist and Teacher. The meeting location is East Cobb United Methodist Church, 2325 Roswell Road NE, Marietta, GA 30066.
Guests and visitors are always welcome!!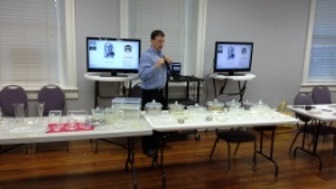 Bob Dahlhofer, club vice-president, presented his collection of Fry Ovenware along with a very interesting history of the Fry Glass Company. Many of us will now be searching for the Fry trademark.