Join Us at Our Next Monthly Meeting!!
• November •
Date:
Tuesday, November 8
Time:
6:30pm (soclalizing and networking)
7:00pm (program and meeting)
Location:
East Cobb United Methodist Church Activity Center
Address:
2325 Roswell Road
Marietta, GA 30062
Happy Thanksgiving!
What a blessing to be members of the PSDGC. Attached is the November newsletter with an idea for a Christmas gift. Enjoy reading it.
Remember to set your clocks back Sunday morning as we "Fall Back." You will want to be on time to visit with friends at 6:30pm and meet at 7:00pm at our November 8 meeting at East Cobb United Methodist Church, 2325 Roswell Road NE, Marietta, GA 30066.
Guests and visitors are always welcome!!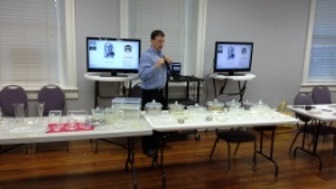 Bob Dahlhofer, club vice-president, presented his collection of Fry Ovenware along with a very interesting history of the Fry Glass Company. Many of us will now be searching for the Fry trademark.