Join Us at Our Next Monthly Meeting!!
Our regular monthly meetings are held on the second Tuesday of each month (except December) at the Marietta Museum of History located off the Marietta Square.
Address:
Marietta Museum of History
Conference room, first floor
1 Depot Street
Marietta GA 30060
(located just off the square in downtown Marietta in the old Kennesaw House)
Date:
Tuesday, March 13, 2018
Social gathering and networking:
6:30pm
Program and meeting:
7:00pm - 8:30pm
Guests and visitors are always welcome!!
Our next meeting takes place on Tuesday, March 13. Our program will be presented by our friend Don Lily of Lily's Glass Blowing. He will share his passion for paper weights. Wear your green and bring a snack to share for our social time at 6:30pm. We will enjoy the program and meeting beginning at 7:00pm at the Marietta History Museum.
Remember: Street parking is sometimes available in the area. There is also a municipal parking lot just across the tracks from the Museum building. There is also designated Museum parking spaces which are available to us on Tuesday evenings since the Museum itself is closed. Our preference is for that to be used for handicapped parking.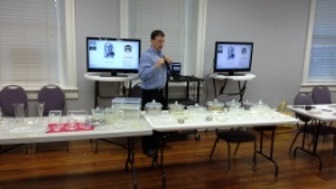 Bob Dahlhofer, club vice-president, presented his collection of Fry Ovenware along with a very interesting history of the Fry Glass Company. Many of us will now be searching for the Fry trademark.