Join Us at Our Next Monthly Meeting!!
• November Meeting •
Location:
East Cobb United Methodist Church Activity Center
Address:
2325 Roswell Road
Marietta, GA 30062
Date:
Tuesday, November 9
Time:
6:30pm (soclalizing and networking)
7:00pm (program and meeting)
The next meeting is November 9 at East Cobb United Methodist Church located at 2325 Roswell Rd NE, Marietta, GA 30062.
Social time begins at 6:30pm and the meeting begins at 7:00pm.
Come in person or Zoom with us. Look for login information in an email from Bob Dahlhofer.
Please see the note below about entering the church parking lot.
It will be best to use the first driveway off Roswell Road coming to East Cobb UMC for our September meeting.
Please use caution since this is usually a one-way exit from the lower parking lot.
East Cobb United Methodist Church has given permission for a separate organization to do COVID testing at the church parking lot, which began last year at the white tent. Lately the line to the church parking lot has increased with more folks requesting a test.
Enjoy the rest of this Labor Day weekend.
Guests and visitors are always welcome!!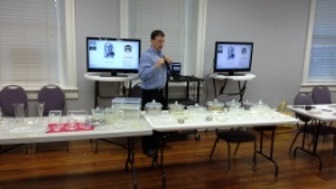 Bob Dahlhofer, club vice-president, presented his collection of Fry Ovenware along with a very interesting history of the Fry Glass Company. Many of us will now be searching for the Fry trademark.