Join Us at Our Next Monthly Meeting!!
Our regular monthly meetings are held on the second Tuesday of each month at the Powers Ferry UMC, 245 Powers Ferry Road, Marietta, GA.
Address:
St. Stephen's Methodist Church
636 Roswell Street
Marietta, GA 30060
Date:
Tuesday, August 14, 2018
Members' appreciation dinner:
6:30pm
Meeting and show wrap-up:
7:00pm - 8:30pm
Guests and visitors are always welcome!!
Tuesday August 14 is our member appreciation meeting! Come and enjoy this thank you event for being active members in the club. Refreshments will be provided courtesy of our events fund!
Please note that this meeting will be at St. Stephen's Methodist Church on Roswell Street in Marietta.
This will also be our 2018 show wrap-up meeting.
Mark your calendar for Tuesday, August 14 and join us at 6:30pm for our member appreciation meeting.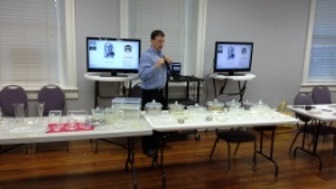 Bob Dahlhofer, club vice-president, presented his collection of Fry Ovenware along with a very interesting history of the Fry Glass Company. Many of us will now be searching for the Fry trademark.