Join Us at Our Next Monthly Meeting!!
• January Meeting •
Date:
Tuesday, January 11
Time:
6:30pm (soclalizing and networking)
7:00pm (program and meeting)
Zoom with us for our Tuesday, January 11 meeting. President Bob will send you a Zoom invitation.
Log in between 6:00pm and 7:00pm to chat with your friends. The meeting and program will begin at 7:00pm.
Guests and visitors are always welcome!!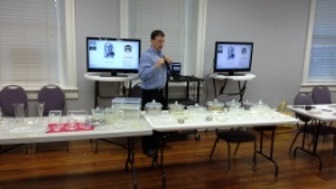 Bob Dahlhofer, club vice-president, presented his collection of Fry Ovenware along with a very interesting history of the Fry Glass Company. Many of us will now be searching for the Fry trademark.